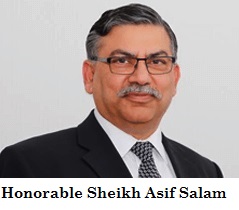 Sheikh Asif Salam is a renowned chartered accountant, advocate, author and son of the late S A Salam. Qualified as one of the youngest chartered accountants of Pakistan at the tender age of 24, Asif Salam rose to the top of this profession by becoming the head of S A Salam & Co Chartered Accountants in 1986 after the death of his father. He holds degrees in law and commerce from the University of Punjab. He is also a Solicitor of Supreme Court in England & Wales. Sheikh Asif Salam became a pioneer in authoring unique books on income tax with his father when he started his professional career in 1981. These books are widely regarded as the foremost authority on taxation and company law. His books including S A Salam's Complete Company Law and Procedures and Complete Income Tax Law have been featured in libraries all over the world from the US Congress, Harvard to Columbia University.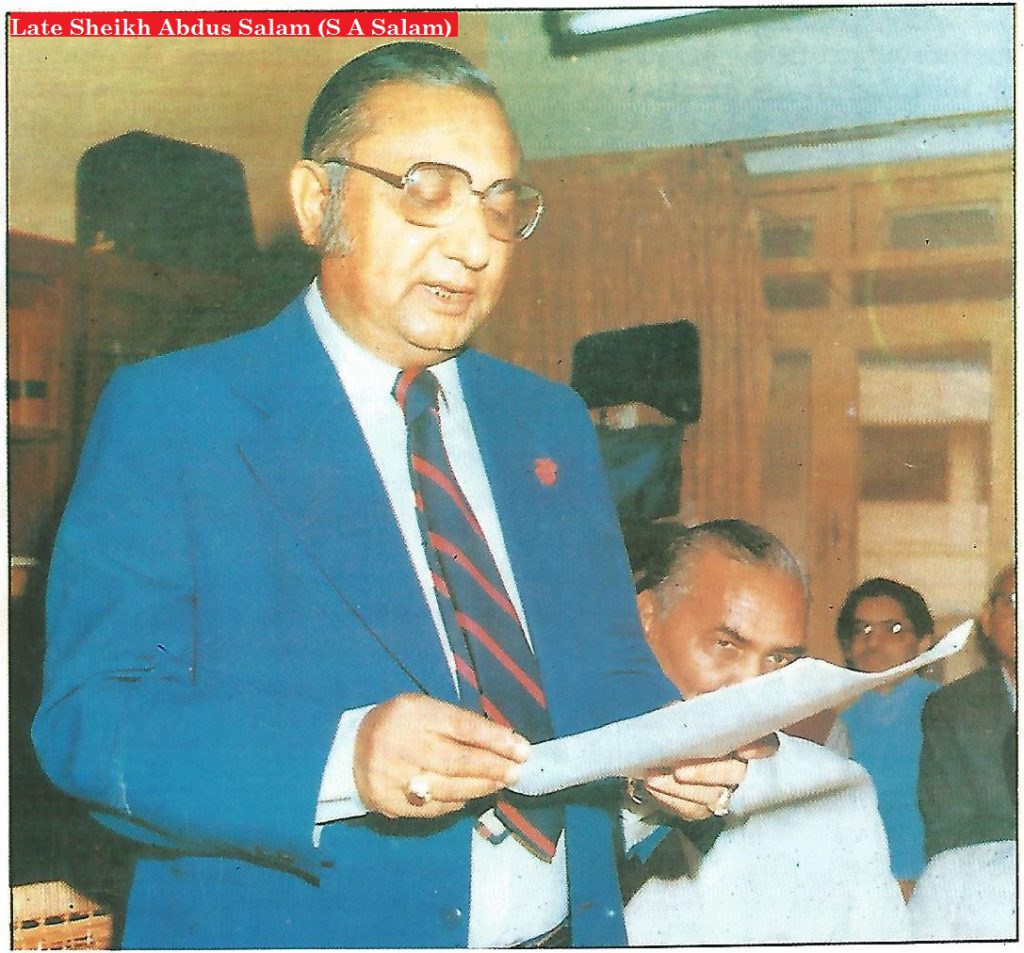 S A Salam was born on April 28, 1930, in Sheikhupura. After his intermediate from Aligarh University in 1947, he joined Hailey College of Commerce, Lahore, a constituent of the University of Punjab, where he enrolled in a B. Com programme in 1950 and M. Com In 1952. He was the editor of the journal 'Al-Iqtisad' published by the College in 1949. Thereafter, he served the institution as a visiting lecturer for M. Com. For over a decade he remained a member of the Board of Studies of the Faculties of Commerce and Business Administration, Board of Examiners (Commerce) and Selection Board (Commerce) of the University.
S A Salam enrolled as an Income Tax Practitioner in 1951. In 1953 he was elected as a Fellow of the Royal Statistical Society and the Royal Economics Society (London). For some time from 1953 to 1955, he worked as an accountant in Fauji Textile Mills, Jhelum.
After passing the Ministry of Commerce Examination held under the Auditor's Certificate Rules, he was enrolled as a registered accountant in 1955 and in the same year, he established his firm under the name and style of "S.A. Salam & Co.".
He was a senior member of Lions Club of Lahore and remained Chairman of Children Parks Committee of the Club for several years. He passed his LL.B. from the University of Punjab in 1957 and was enrolled as an Advocate of the Lahore High Court in 1959 remaining as a member of the Lahore High Court Bar Association.
S A Salam was one of the founding members of the Institute of Chartered Accountants of Pakistan. He became a member in 1961 and had the honour of being nominated on the first Council and remained in that capacity from 1961 to 1967. He was re-elected to the Council for 1982-85 term. He remained Chairman of Central Regional Committee of the Institute from 1963 to 1968. He was also elected Vice President of the Institute for 1966-67 terms.
During his 25 years active association with the Institute, he served as Member of its Board of Studies and served the Institute in various capacities. He was a member of various committees of the Institute including the Tax Laws Committee of which he was the Chairman.
He was a prominent Tax Practitioner and was elected as President of the Lahore Tax Bar Association for the years 1980-81 and 1981-82. He was a regular contributor of articles and research-oriented letters which were published in various journals and newspapers from time to time. He also presented Budget Proposals and suggestions to the Government almost every year. He motivated others to bring out professional books and himself brought out the first three editions of this book, he named the third edition as "Complete Income Tax Law".
He suffered a heart attack while on his way to his office on February 26, 1986, and was rushed to the Mayo Hospital, Lahore where he remained in the Constant Care Unit till his death on April 4, 1986. His death was a shock to not only the family members but to numerous others as well.
S. A. SALAM MEMORIAL GOLD MEDAL
Besides individual condolence messages, his death was widely condoled by various institutions and associations from all over the country. In recognition of his services to the profession, the Institute of Chartered Accountants has instituted an award by the name of "S. A. Salam Memorial Gold Medal" for students of C.A. Final Examinations. Likewise, the Hailey College of Commerce has also instituted a Gold Medal for meritorious performance in M. Com.
A philanthropic institution "S. A. Salam Foundation" was formed immediately after his death. Besides other activities, the Foundation ran a free medical dispensary from May 1986 and served almost 300,000 patients.
May ALLAH rest his soul in peace.